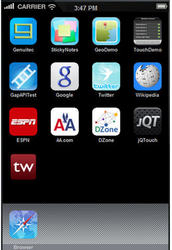 At the Staffing World conference this last week in Las Vegas, I had the chance to show off our mobile staffing software to visiting prospects and clients.  The fact that the app makes direct use of the WebKit base of the Iphone and Adroid was a hit. 
The most utilized feature gives sales professionals quick access to contacts and messages, allowing them to walk into client meetings well prepared and log meeting notes with action items during and after the meetings.
Recruiters are also able to view their action items, including a hot-list of candidates and a placement pipeline.  All the data synchronizes in real-time with the TempWorks enterprise database that everyone in the organization from support personnel to back-office staff can access.
Based on Microsoft's MVC application architecture, the product also supports devices ranging from the PalmPre to the new Google Android.  TempWorks has been providing mobile applications since 2003 to staffing companies like Manpower, Select Staffing, and Michael Page.  Previous versions of the mobile systems used text that displays plainly on the older smart phone devices.
TempWorks CTO, Paul Czywczynski comments, "For many years the TempWorks Mobile product has been very successful with people on the go, who want quick access to their TempWorks data. With the arrival of the iPhone, HTC handsets, Android, and Palm Pre phones, we are able to do so much more."
David Dourgarian, President of TempWorks, commented on the adaptability of the platform to new devices.  "The mobile landscape is evolving rapidly, and our clients want the best app for each new generation of devices.  Our MVC platform does just that.  Whether you choose iphone or Android or the next great device to come along, we'll have an interface that leverages the best of that device."
Mark Baratto, EVP with TempWorks, focused on how the new mobile technology is impacting staffing sales performance.   "Preparation is everything when it comes to creating trust, and one reason our clients have done well throughout the recession is that tools like TempWorks Mobile have kept their sales team prepared and effective."